Wondering what to wear for your engagement photos or senior portrait session? Picking out your clothing options can be the most stressful about photos, but it doesn't have to be all bad! To help you find YOUR inspiration, we've put together this outfit guide to help get your creative juices going.
What is our number one clothing tip? Pick something you feel awesome in. Photo sessions can be a fun excuse to go shopping for a few new fresh items. It's important to feel confident and/or cute (sorry guys, we know you don't want to look cute) so you feel great during your session!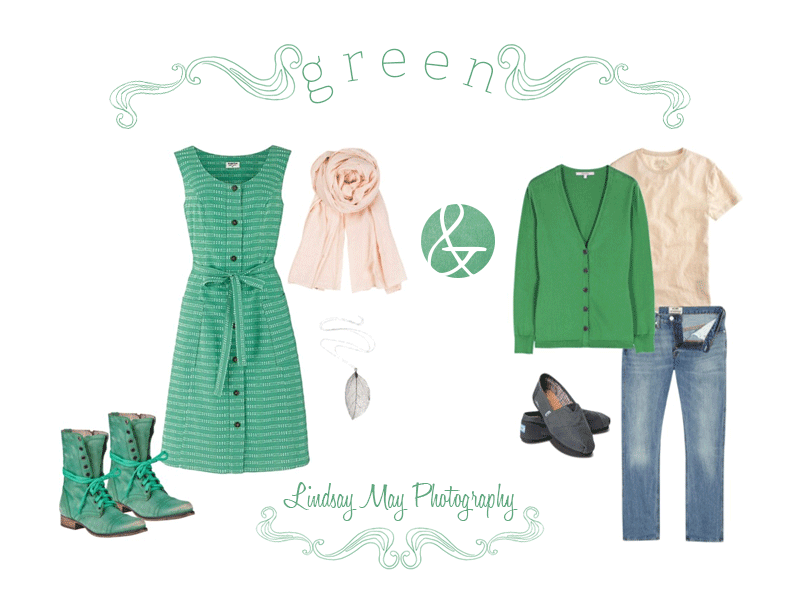 Green
Nothing says fresh and new quite like the color green! Green comes in a wide array of shades, ranging from a yellowish, pea-like hue all the way to turquoise! Green looks beautiful combined with earth tones, and therefore makes a wonderful choice for outdoor shoots and backdrops of wood and stone. Even small accents of green, such as jewelry, scarves, or shoes look wonderful with whites and tans.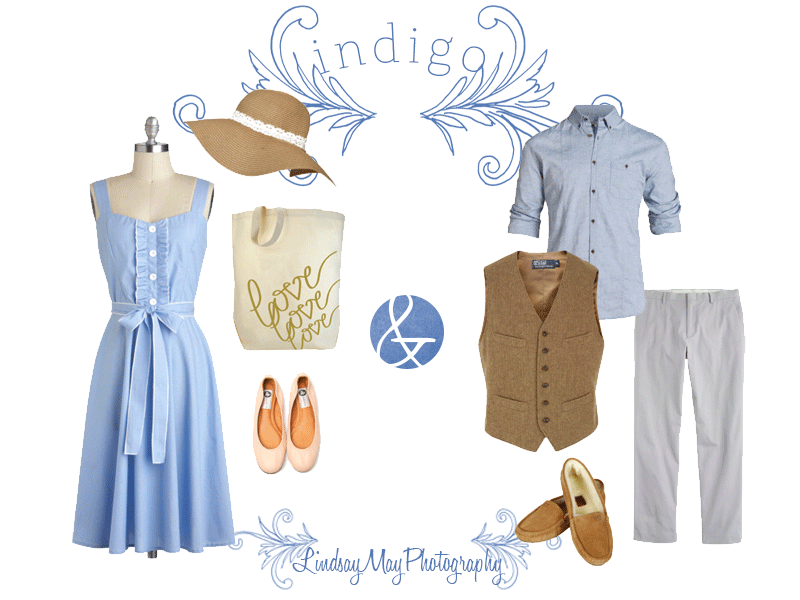 Indigo
Indigo- or deep blue- is a rich, exceedingly popular color which looks beautiful in almost any setting. Outfits with blue elements create a sense of calm and quiet- perfect for a more introverted couple or natural backdrops. Blue can be dressed up or down to fit your tastes, and can be used either as a main color or accenting in your outfits.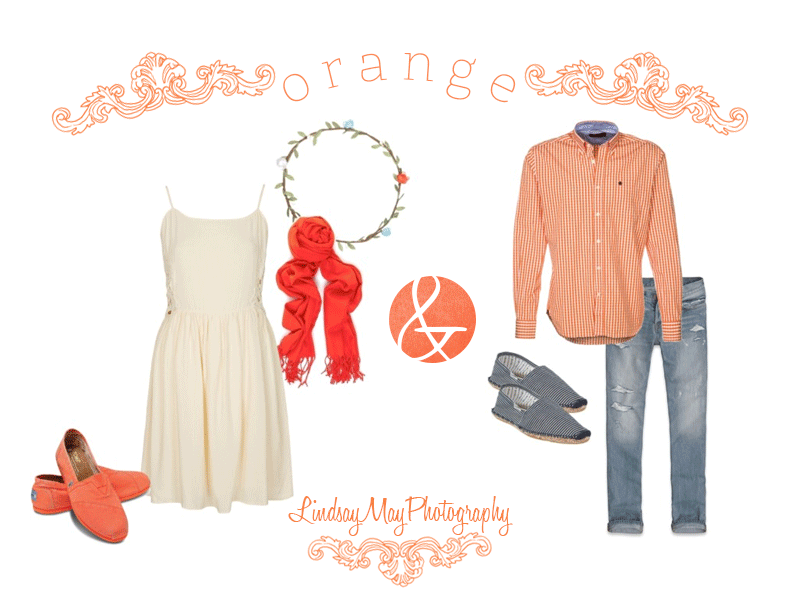 Orange
Orange is a tangy, optimistic color that demands attention! Strong, joyful, and happy, adding orange to your engagement or family session is always a hit on camera. Couples with a more extroverted nature might enjoy orange-themed outfits. Orange also looks wonderful in urban settings, such as against concrete, brick, and stone.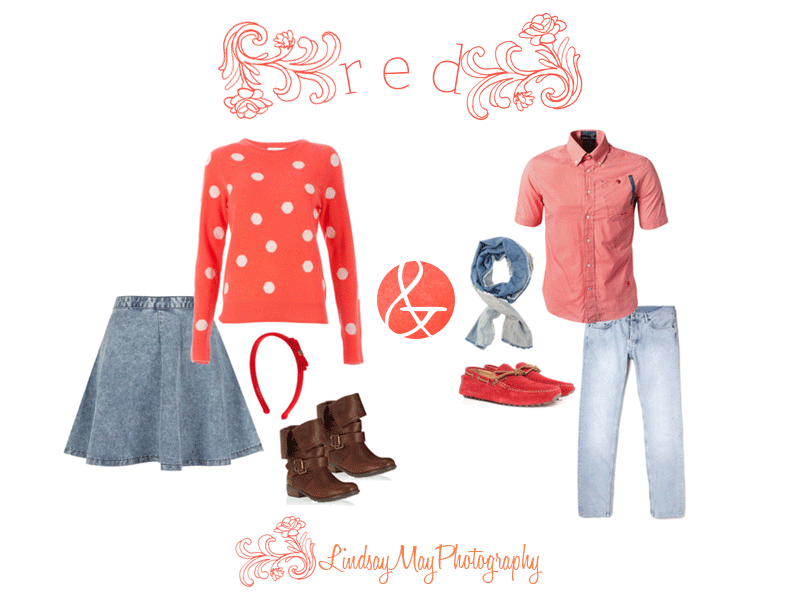 Red
Red is one of, if not the, strongest of colors in the rainbow. A symbol of power, passion, blood, and love, red is a bold and striking color for your session. Since red is truly a brilliant, attention-grabbing color, we recommend peppering your outfit with red accents instead of making red the main color for all garments. Pairing red with denim or darker neutral tones makes for striking images that create lasting impressions on your wall.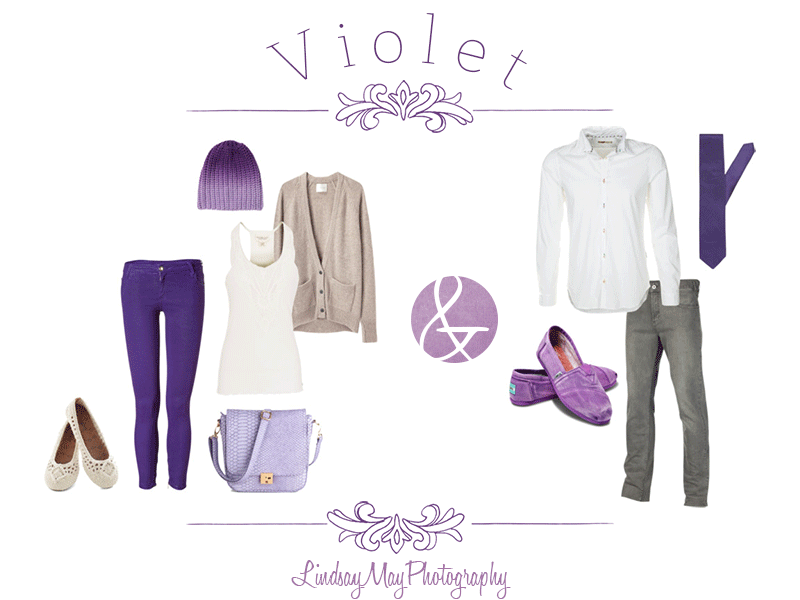 Violet
In ancient times, the creation of purple dye was an incredibly lengthy, expensive process. Purple garments became a symbol of wealth and nobility, even royalty; and were sought after world-round. Although violet is now far easier to come by, the color is still associated with its royal roots. A violet-themed outfit exudes playful sophistication and looks great on camera! Small accents of purple, such as scarves and accessories, can also liven up an otherwise muted palette!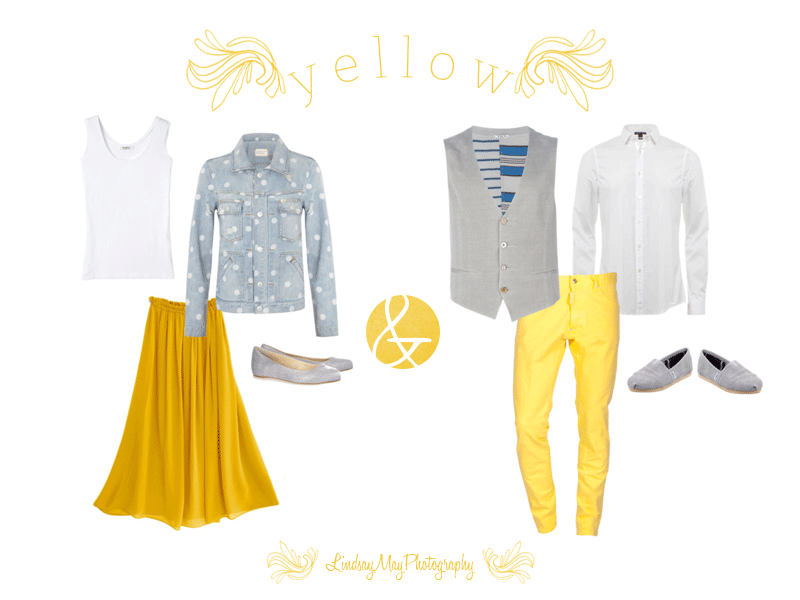 Yellow
Ah, yellow! The color of happiness, of light and sunshine. Yellow is a wonderful color to wear in outdoor, buttery natural-light shoots, and looks amazing on camera! Although yellow can be difficult for some to wear because of its tendency to wash out skin tones, patterns with yellow or a single yellow garment in an otherwise neutral palette adds wonders to your images. Adding yellow florals, jewelry, or accents also helps to make your photos go "POP!". I love yellow!
Have fun picking out your outfits! Feel like staying in touch? We'd LOVE it if you "liked" our Facebook page 🙂