Archive for 'Families'
Figuring out what to wear to your next photo shoot is often one of the most stressful parts of having your photos taken. I've put together a few of my tried and true tips to helping you and your family look, and most importantly FEEL, your best!
1. Start with YOU. If you are the one researching about photos for your family and coordinating all of the details, chances are that outfits will matter the most to you out of anyone else you are planning for. Pick an outfit that you feel beautiful in and plan the rest of the family from there. Finding something that is flattering on you is the path of least resistance to determining the rest of your family's coordinating threads. Annual family photos is also an excellent reason to go shopping with a girlfriend (or guy friend). Just sayin'.
2. Don't over coordinate. The days of everyone wearing a white or black shirt and khaki pants or jeans are long gone. Find outfits that coordinate with similar tones and palates without blending in completely. If everyone is wearing a white shirt and jeans, when you all stand next together you are going to look like one big blob with minimal contrast and distinction between individuals.
3. Accessorize. Accessories are a great and easy way to make your photos pop with color and texture without dominating the image. Necklaces, bracelets, scarves, hats, shoes, handbags, watches — the opportunities are endless. Just be mindful of not over-doing it.
4. Don't forget about your shoes. While you're heading out the door, scan your family's feet to make sure everyone is coordinating. You don't want anyone to leave the house with those old flip-flops or grubby tennis shoes (unless that's the look you want). Shoes tend to get overlooked, so it's best to plan your outfits from head to TOE! If you're showing off your toes, make sure to give em a coat of fresh polish. Or, get a pedicure!
5. Think about colors. Not sure what color theme to do this time? Get some ideas from your home! What colors do you most often use in decorations? What do you love? How do the colors make you feel? Choosing colors that are already present in your home will help your images look even better when they are on display! Don't feel pressured to wear the latest trendy colors. Bright neon or glowingly bright colors have been all the trend lately, but often photograph poorly- leaving bright green, pink, or yellow color casts on your skin in shadows.
Want more outfit ideas? Check out some of 2014's most popular color trends that photograph well. Download your complimentary guide HERE, or scroll below for images.
Guys. This has been a year of firsts for me on SO many levels, and in the spirit of new things I'm offering something NEW this fall!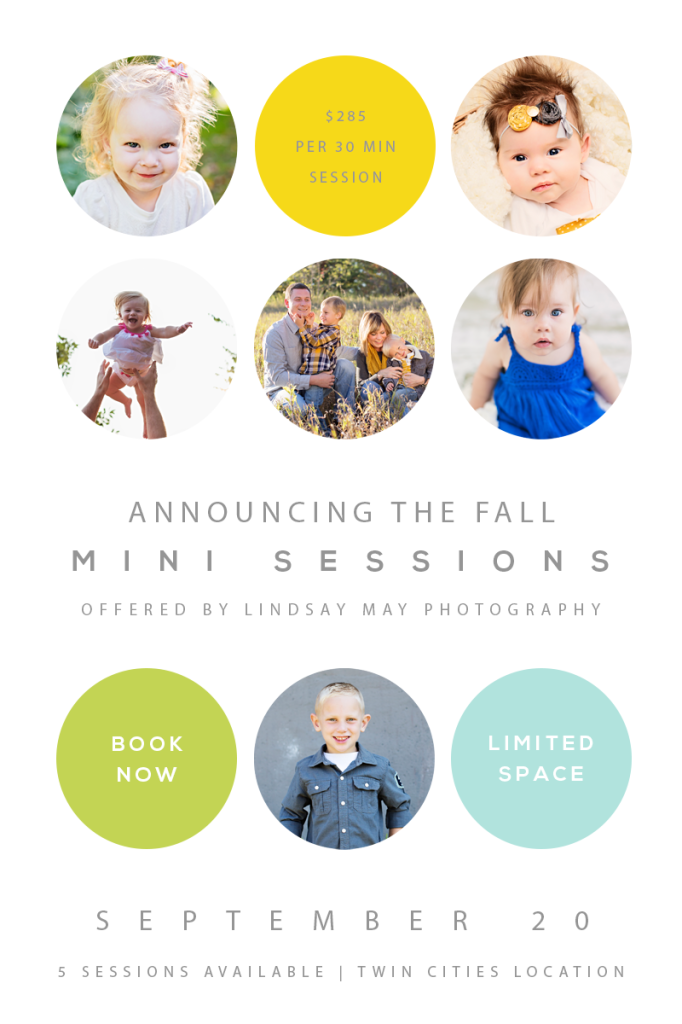 Many have asked me if I would ever consider doing minis, and I am excited to offer them this year. I will be offering only FIVE session slots on Saturday, September 20.
What are Mini Sessions?
Mini sessions are a great option for a more affordable professional photo experience. They are short and sweet photo sessions held in a single location. You don't need an occasion to have stunning photos taken, and they provide delightful memoirs of a special day.
Where will they be held? What if it rains?
We all know how questionable the weather can be in Minnesota. That's why I have an indoor AND outdoor location option available. No need to plan for a back-up date.
Do I get digital images with my mini session?
Yes. You will be presented with an online image gallery of 15-20 beautifully retouched images for you to view and select five to keep. This does include a print release. Do you plan on having prints made to give as gifts to friends, family, or even to put on your family holiday card this year? I offer very affordable professional prints and the hassle-free service of doing the ordering, cropping, and/or designing of the card for you if you wish. You'll get more detailed pricing info on this when you officially book your session.
Do I need an occasion to book? Do I have to have kids to do this type of thing?
NO! Whether you'd like beautiful photos of your children, memoirs of maternity, a new baby, your family, an anniversary, friends, or even a fresh image of yourself, we're excited to have you be part of the fun!
How do I book?
There is a $150 retainer to hold your spot. The remaining balance is due prior to the start of your shoot. Send us an email to get the process started!
Session Slot Availability:
2:00 pm:  OPEN
2:40 pm: OPEN
3:15 pm: OPEN
4:00 pm: BOOKED:TK

4:40 pm: OPEN