Guys. This has been a year of firsts for me on SO many levels, and in the spirit of new things I'm offering something NEW this fall!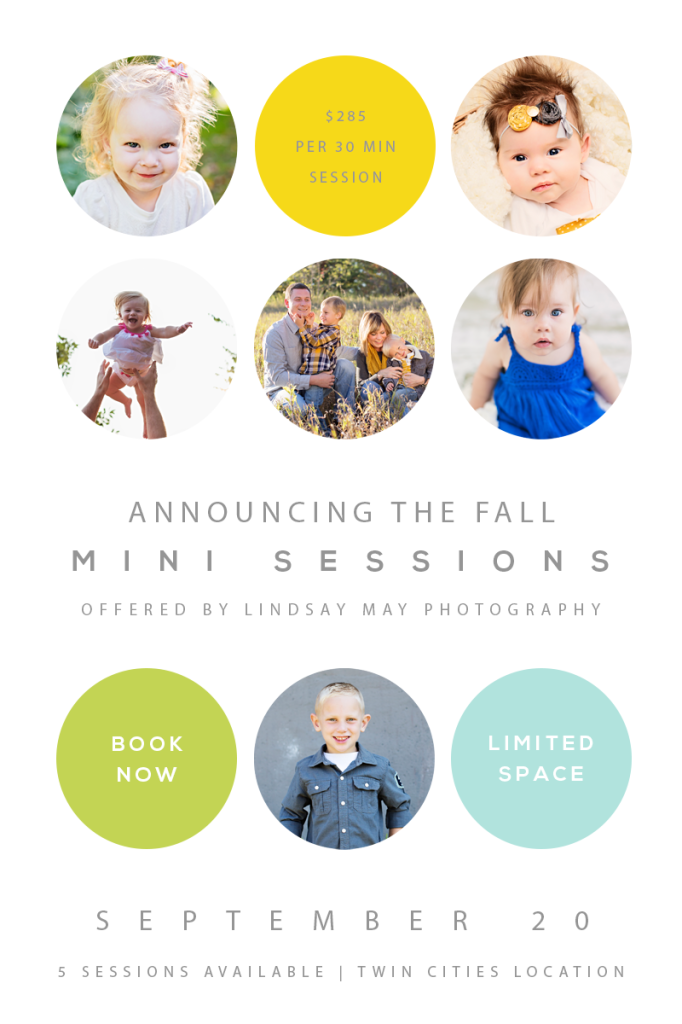 Many have asked me if I would ever consider doing minis, and I am excited to offer them this year. I will be offering only FIVE session slots on Saturday, September 20.
What are Mini Sessions?
Mini sessions are a great option for a more affordable professional photo experience. They are short and sweet photo sessions held in a single location. You don't need an occasion to have stunning photos taken, and they provide delightful memoirs of a special day.
Where will they be held? What if it rains?
We all know how questionable the weather can be in Minnesota. That's why I have an indoor AND outdoor location option available. No need to plan for a back-up date.
Do I get digital images with my mini session?
Yes. You will be presented with an online image gallery of 15-20 beautifully retouched images for you to view and select five to keep. This does include a print release. Do you plan on having prints made to give as gifts to friends, family, or even to put on your family holiday card this year? I offer very affordable professional prints and the hassle-free service of doing the ordering, cropping, and/or designing of the card for you if you wish. You'll get more detailed pricing info on this when you officially book your session.
Do I need an occasion to book? Do I have to have kids to do this type of thing?
NO! Whether you'd like beautiful photos of your children, memoirs of maternity, a new baby, your family, an anniversary, friends, or even a fresh image of yourself, we're excited to have you be part of the fun!
How do I book?
There is a $150 retainer to hold your spot. The remaining balance is due prior to the start of your shoot. Send us an email to get the process started!
Session Slot Availability:
2:00 pm:  OPEN
2:40 pm: OPEN
3:15 pm: OPEN
4:00 pm: BOOKED:TK

4:40 pm: OPEN